Mayor Annisu lHuq committed to make the city business friendly and 'Young' again
প্রকাশ | ০৬ অক্টোবর ২০১৬, ২১:৪১ | আপডেট: ০৬ অক্টোবর ২০১৬, ২১:৪৮
Staff Correspondent, dhakatimes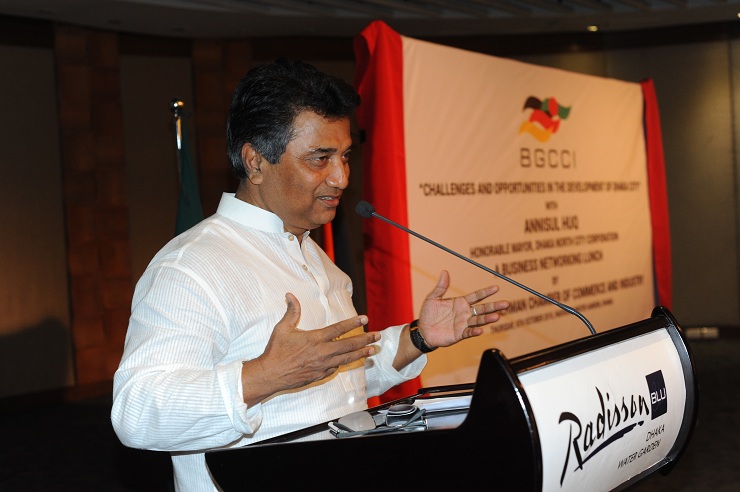 The Mayor of Dhaka North City Corporation has expressed his strong commitment to clear the city from all sorts of illegal occupation and turn it into a clean, safe, soothing, business friendly metropolitan. Mr. Annisul Huq was the chief guest of a business networking lunch organized by Bangladesh-German Chamber of Commerce and Industry (BGCCI) which took place on 6th of October, in Radisson Water Garden Dhaka. His Excellency Dr. Thomas Prinz, the ambassador of Germany and Mr. Tawfiq Ali, the president of BGCCI were among the many dignitaries who attended this programme and welcomed the guests. Representatives of different local and international business conglomerates took part in this business networking lunch, too.
The mayor focused on the enormous challenges he faces on a day-to-day basis operation of the mayor's office. Struggling with bureaucracy, fighting corruption, illegal occupancy, handling political pressure and complex relationships with other service providing authorities, all are part of the challenges he faces every day, as he explained. Yet he is committed to make the city a livable one and make it more citizen-friendly. The mayor has informed the attendees that the city authorities are concerned about the traffic congestion. They are trying their best to solve this problem but it will take time. Modern communications and transport systems like metro rail and bus rapid transit are on their way.
The German Ambassador Thomas Prinz also expressed his positive thoughts on the overall progress of Bangladesh and its bilateral trade relations with Germany. In his speech he mentioned that there are business opportunities for the conglomerates working in both Bangladesh and Germany. By successful mediation through BGCCI these opportunities can be used by the companies.
The business networking event is a regular initiative of BGCCI to promote bilateral trade and business opportunities for their members.
(dhakatimes/6th October/KS/ZA)