Bangladesh bitten by four pacers
প্রকাশ | ২০ জানুয়ারি ২০১৭, ১৩:৪৪ | আপডেট: ২০ জানুয়ারি ২০১৭, ১৩:৫৪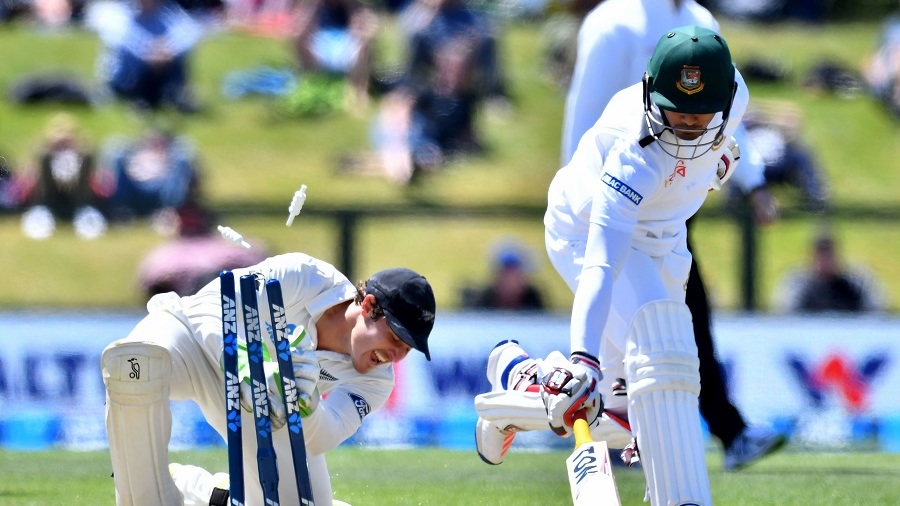 Wicketkeeper Watling may have been tired or happy. So many balls went behind of wicket that he couldn't even wink. On the other hand, he dismissed five tigers standing behind the wicket like a pro. That definitely has pleased him immensely. Blackcaps took an oath that they would flat visitors by short balls. That they have kept with an addition of poisonous swings. Resulting the visiting team wrapped up within 289.
Today, Blackcaps captain Kane Williamson used only four bowlers. Surprisingly, there wasn't a single spinner! His main weapons remain Tim Southee and Trent Boult and together they have grabbed nine wickets. Neil Wagner was there to accompany them. Colin de Grandhomme did 14 overs, but failed to grab any wicket. Five tigers gave away their wickets behind the stamps.
New Zealand won the toss and opted to bowl first. At the beginning Tamim Iqbal (5) went back from Southee's bouncer. Next Mahmudullah and Soumya Sarkar made a little partnership of 32. Mahmudullah beings out giving catch to wicketkeeper as like as Tamim. From here Shakib and Soumya steered and they made a partnership of 127 runs.
All of a sudden Shakib went back following his mates, giving an easy catch to Watling. He wanted to flick but failed.
After the dismissal of Shakib-Soumya's coupling, only Nurul Hasan fought for a while. He made an important partnership of 58 with Nazmul Hossain Shanto, 9 with Taskin, as well as 16 with Kamrul Islam Rabbi.
Last evening Nurul finished his first test journey making 47 runs. It was a difficult bouncer from Boult. At last Bangladesh finished their first innings by 289.
Bangladesh's First innings: 289
(Tamim 5, Sarker 86, Riad 19, Shakib 59, Sabbir 7, Shanto 18, Shoan 47, Miraz 10; Boult 4/87, Southee 5/94, Wanger 1/44,)
(Dhakatimes/AM/18 January)