Dr Wazed model source of inspiration for new generations
প্রকাশ | ১৭ ফেব্রুয়ারি ২০১৭, ১৭:৩৬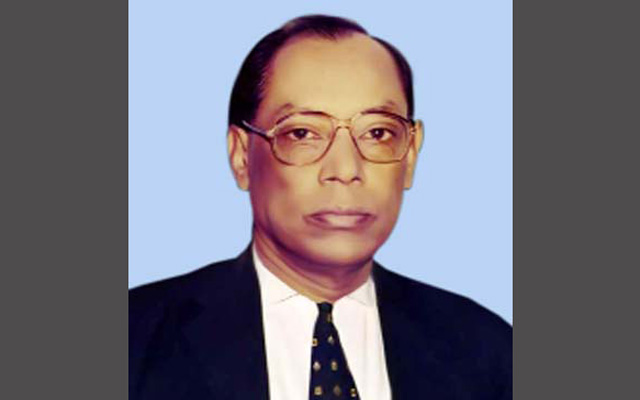 Noted nuclear scientist and Prime Minister Sheikh Hasina's husband Dr MA Wazed Miah will remain as a model source of inspiration for the new generations to serve the nation selflessly with honesty and patriotism.
Vice-chancellor of Begum Rokeya University, Rangpur (BRUR) Professor Dr AKM Nurun Nabi said this in a discussion arranged in celebration of the 75th birth anniversary of the nuclear scientist at Town Hall auditorium on Thursday night as the chief guest.
Dr Wazed Smriti Sangsad (DWSS) organised the memorial discussion on the life and deeds of Dr Wazed followed by prize distribution to end its two-day programmes taken to celebrate his birth anniversary.
The programmes included placing of wreaths at the grave of Dr Wazed in village Laldighee Fatehpur, milad mahfil and special munajats seeking eternal peace for the departed soul of Dr Wazed and well-being of his all family members.
The programmes also included competitions on drawing, hand writing, rendering patriotic song and poem recitation for the children in separate categories.
With President of DWSS Professor Dr Hamidul Haque Khondker in the chair, Acting Deputy Commissioner Sultana Pervin, Zila Parisahd Chairman Advocate Chhafia Khanom and Professor Mozammel Haque addressed the discussion as special guests.
General Secretary of DWSS Saiful Islam Jahangir delivered welcome speech narrating personality, talent, life and tremendous contribution of Dr Wazed in building a developed nation to materialise the dreams of Bangabandhu.
Executive committee member of DWSS and Dr Wazed's relative Abu Sufian Hiru presented keynote essay on the life, deed, personality, excellent character, unparallel talent and human qualities of the nuclear scientist.
Moderated by Women Affairs Secretary of DWSS Tahmina Shirin, its
executive committee members, academicians, professionals, intellectuals, socio-cultural activists, journalists, students, children and their guardians attended the function.
The speakers said the nation would always remember its great son Dr Wazed Miah, who was an honest and humble man by character, thoughts and beliefs to serve the country selflessly with the highest degree of patriotism, love and passion.
The chief guest said Dr Wazed dreamt of building an economically and technologically developed Sonar Bangla and paved the way for flourishing science education and conducting scientific research works in the country.
"Dr Wazed was a completely greedless man with noble character, thoughts and beliefs and worked for immortalising the ideals of Father of the Nation Bangabandhu Sheikh Mujibur Rahman," he said.
He suggested the young generations to follow the ideals, patriotic zeal and honesty of Dr Wazed in building an economically and technologically developed Bangladesh to realise Bangabandhu's dream of making independence meaningful.
Later, Dr Nabi, along with other guests, distributed prizes, crests and certificates among winners of different competitions. –BSS
(Dhakatimes/17February/ZB)