Irrepressible Sheikh Hasina
Arifur Rahman
| আপডেট : ২৫ এপ্রিল ২০১৭, ২০:৫১ | প্রকাশিত : ২০ এপ্রিল ২০১৭, ১৭:৪০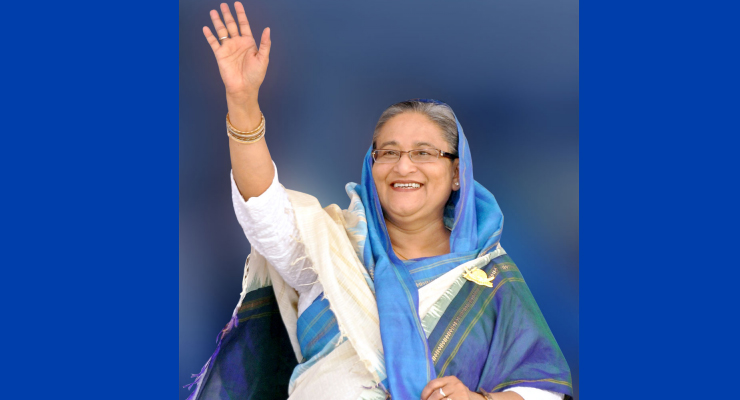 In the March 2007, During the army-backed caretaker government, the Awami League chief Sheikh Hasina went to Canada and United States to saw her then sick daughter and pregnant daughter-in-law. On April 18 of that year, the caretaker government announced bans on her returning to this country.
Irrepressible Sheikh Hasina. In an emotional interview with Al-Zazira television she said that, "Bangladesh is my motherland and I will die only there. Intimidation, threats nothing going to deter me from returning to Bangladesh."

Ignoring all the conspiracy, menace of the then army-backed caretaker government Sheikh Hasina returned home on 5th may 2007.
At one stage, she got forcibly arrested. There were even attempts to kill her through food poisoning. This is not the end of it, there were even conspiracy to give her penal bar & to make that possible they were plotting cases after cases only to resist her from doing election.
Still, Sheikh Hasina was forthright in the struggle to re-establish the democracy again. Have endured intolerable torture, dealt with all those conspiracies face-to-face. After the remorseless assassination of Bangabandhu Sheikh Mujibur Rahman, in 1981 when Sheikh Hasina somehow managed to return home after so many tries, then again she had been repeatedly attacked by the then dictator clan and faced the wrath of those plotters. They made at least 19 attempts to assassinate her. Particularly, on the 21st august in 2004, with the auspices of the then BNP-led coalition government those conspirators shamelessly attacked her with grenades but Sheikh Hasina survived again just by a bit of luck this time.
However, Sheikh Hasina didn't gave up. She has devoted herself to improve the fate of our countries developement. Under Sheikh Hasina's sturdy leadership Bangladesh is now going to join the leagues of middle-income countries. And this is not the end of it, now people of this country are also believing the fact that, Bangladesh is not far behind to become a fully Developed country. For various reasons, some will definitely say that it is nothing but a pipe-dream.
But Sheikh Hasina knows how to make a ambitious dream comes true. She knows very well how to overcome such obstacles & how to deal with these kind of poor conspiracies and still be able to ensure the developement of our country. That's why she is unparalleled. Quite frankly, if someone has to describe Sheikh Hasina in one word that word would be 'stark'.
Sheikh Hasina did guess about all those conspiracies and plotting of that one-eleven's army-backed caretaker government. And She was kind of sure that she would be arrested sooner or later by them.
Our very own endeared Awami League Chairperson Sheikh Hasina wrote a small letter at that point of time & it was about her indomitable attitude all the way. It was also quite evident in that letter that she was truly unshakeable on her country people and on their rights rather than securing her then jeopardize life. That unwavering letter was published on 17th july 2007 in almost every media platforms just after the day she got arrested. Sheikh Hasina wrote, "Dear People, Salaam to all of you. The current government is arresting me now, don't know where to. I've always fought for your democratic rights and financial development throughout my life. Never did a wrong deed in my whole life. However, they've submitted completely false allegations. But I've faith in Allah Rabbul Alamin and in all of my fellow people." Sheikh Hasina also wrote, "To My Dear people, Bangladesh Awami League and it's associate organizations, I've a heartfelt request to all of you which is 'never ever lose your courage'. Always protest any sorts of wrongdoing. No matter where you're or how you're never forget to stand up against unjust. Don't bow your head. Truth will prevail. I'm with you all and will be till death. Whatever happens to me, you people need to keep fighting for the rights of our people. Victory will be ours."
The Successor of Bangabandhu also mentioned in her letter that she'll make the dream of Bangabandhu to build a Golden Bangladesh into a reality. Will bring smile in the faces of our wretched peoples. While simply didn't know what was on her fate after getting arrested still then how firm her attitude was! Exactly like her father Bangabandhu Sheikh Mujibur Rahman.
And only because of this uncompromising attitude, Sheikh Hasina is giving proof every now and then to the rest of the world that Bangladesh can stand with its head held high.
Muhammad Younus was really desperate to remain as the Managing Director of Grameen Bank in the most unprecedented way. Not only Ignoring all the rules & regulations of Grameen Bank also by breaking all the diplomatic etiquette the then foreign minister of united states and former democratic presidential candidate Hilary Clinton phoned Sheikh Hasina to keep younus as the MD of Grameen Bank. Another US foreign minister John Kerry too created pressure in many ways. The World Bank was also side by side along with its age old banal romps. But respecting all the regulations Sheikh Hasina didn't want any exception. Didn't want to break the lex of Bangladesh Bank on appointing the Managing Director of Grameen Bank. That's why she didn't fall down to the pressure. Bangladesh will continue on its own that's what Prime Minister Sheikh Hasina ever wanted. And for these she had to cope with many conspiracies and pressures.
In spite of making a loan agreement on Padma Bridge project, the World Bank didn't give the promised money to Bangladesh by making some fabled complaints of corruption. But the fact is, Sheikh Hasina is irrepressible. Padma Bridge is now being constructed by Bangladesh's very own money. By pointing finger in the eye to the World Bank & also to the rest of the world Sheikh Hasina showed that anything can be possible if we really have that stern will. Even though those conspirators have clearly said that Padma Bridge is never going to happen. Their remark was, If Bangladesh ever plans to build Padma Bridge from its internal resources then Bangladesh's overall upliftment will be hampered. GDP will come to a standstill. Nevertheless the current scenario is completely the opposite. The Sheikh Hasina led Government has achieved the GDP of 7.1 in the last fiscal year.
This is Sheikh Hasina. And now the World Bank is saying things which is somewhat 180-degree inverse from their previous statements. Interestingly, in October 2016, Jim Yong Kim the current World Bank President had visited Bangladesh. He also said that, Bangladesh's pre-valance in poverty alleviation & in women empowerment is truly monumental. The World Bank President has even said that they will uphold all this attainment of Bangladesh to the whole world in different platforms. Today Bangladesh is much more respected in the entire world than before. Let's here talk about china, China usually do not praise somebody. China most often ignores the economical prosperity or sustainable development de facto they take slow going principles.
Notwithstanding, while Chinese President Shi Jenping came to visit Bangladesh, he over and again praised Sheikh Hasina's leadership. Chinese President publicly expressed his fascinated feelings by seeing the development and progress of Bangladesh. Sheikh Hasina has many many more achievements like this.
Sheikh Hasina's unfaltering attitude regarding the war-criminals trial needs to be told here. Just imagine how much pressure was there from the inside and outside of the country to not do the war-criminals trial! Including Pakistan and Turkey, there are other few countries too have tried their utmost to stop that war-criminals trial and there are some International organizations too who also desperately tried even lobbied in many ways to stop the the government from giving death penalty to those war-criminals. But Sheikh Hasina was unmoved. Through the process of fair-trials those war-criminals were hanged to death one after another, other trials is also in progress. And Again only because of her stubborn spirit 25th March has been declared as the day of genocide. With this, removing the blemish from the country has progressed to one step further.
Exactly like her father Bangabandhu Sheikh Mujibur Rahman Sheikh Hasina also has a strong sense on nationalism. Sheikh Hasina made this clear long ago that any kind of Unsolicited advice from any foreign friendly-nations is not preferable to her while running the government. It becomes more clear from a statement of the Prime Minister. She told that, we do not want to involve into a war with anyone ever. But if someone attacks us then to give them adequate response we will definitely gather the proper preparation. Keeping that in mind we're doing things which is due. Prime Minister Sheikh Hasina said all these as a chief guest when formally commissioning the twin submarines named `Nabajatra' and `Joyjatra' in the navy at a colourful ceremony in the Chittagong Naval Berth. Sheikh Hasina also said, "We want to keep friendly relations with everybody in order that we can do the overall improvement of our people.' However, as an independent nation we'll quite definitely collect those things which is necessary for us. Because, these are the symbol of our independence and sovereignty. And through this, it is crystal clear that how much firm attitude and strong feelings she has about Nationalism. If we want to say more specifically then at the time of Ganga Water Agreement she indeed had showed her intense feelings on nationalism. Late chief minister of west Bengal and former CPIM leader Jyoti Basu had played a very crucial role in the Ganga Water Treaty.
Sheikh Hasina got this triumph by particularly communicating with Jyoti Basu. Yet, earlier when Begum Khaleda Zia went to india as the then prime minister she didn't even say a single word on the Ganga issue! When Khaleda Zia came back to Bangladesh journalists continuously asked her if she had discussed the matter with the Indian government then she mentioned she had completely forgotten that thing!
To be honest, It was Sheikh Hasina's stable position of mind that paves the way for Bangladesh to win the maritime dispute with none other than India.
Sheikh Hasina's stalwart attitude to curb the militants has been hailed throughout the world. When the World Bank President was visiting Bangladesh even he too praised the security systems of our country. During the past BNP-Jamaat led government there were several controversies going around the whole country that the government itself actually cherishing the terrorism and those militants by simply backing them. And in this case, Sheikh Hasina's 'Zero Tolerance' policy is now quite obvious. Sheikh Hasina is unambiguous in this regard.
That is the reason why only Sheikh Hasina can say things like these, "We're really determined so that nobody could do any sorts of turmoil with our neighbor countries or even inside into our country just by using our motherland. This is fully our decision that we will not let anyone to use our homeland for any such terror activities. And we're taking steps in that way. For this reason, now-a-days it seems like in fact no militant organizations can't help themselves to flourish. Security forces has now been working on a regular basis under their own command and through the governments direction.
Today the whole world is startled to see the development and progress of Bangladesh. Bangladesh has now become a role model in development. Let's just talk about electricity. During the BNP-Jamaat alliance government there were only worthless talks about electricity yielding. On the other hand only Because of Sheikh Hasina's personal intervention power houses has been established and electricity has been manufactured one after another. The development in electricity generation has been unimaginable. It was totally stupendous to many foreign experts.
When the construction work of Ruppur Power Plant, Matarbari Power Plant, Rampal Power Plant will get completed then the electricity situation of our country will be boosted into a whole new level. Also with this it will completely change the face of our country and this is the said of many local-foreign investors and Economic Analysts. In fact the current Sheikh Hasina led government has continued this trend of development in almost all the sectors including Education, Health and Infrastructure. Around 40 percent of the construction works of the Padma Multipurpose Bridge has already been done. The operational activities of the third seaport of Bangladesh at Payra in Patuakhali have started on a limited scale. The metro rail project is moving forward rapidly in Dhaka, which will be opened for passage from right through the year of 2019. Dohazari gunadum rail project, Sonadia deep-sea port, LNG terminal,
one house one farm project, Bus Rapid Transit, Satellite Bangabandhu-1, Digital Center– by taking this kind of major development projects Sheikh Hasina has proved again that her main philosophy is to develop Bangladesh nothing else.
The per capita income of Bangladesh is now fourteen hundred and sixty six dollars. Under the supreme Leadership of Sheikh Hasina we are now a proud middle-income country. Sheikh Hasina is someone who is able to show us the dream to become a developed country. We really need Sheikh Hasina, we need her sublime leadership a lot more. In addition, The United Nations has accepted Sheikh Hasina's Peace Model. Under the leadership of Sheikh Hasina, Bangladesh till now has achieved 27 different important international and prestigious awards and medals. The United Nations has given Bangladesh `Champion of the Earth' award for tackling climate changing risks. Our heads held high around the world.
More or less we all know that how humanist Sheikh Hasina is while also being indomitable in Development, Earning Human Rights, Suppressing militants and terrorism. Runa, Ratna, Shanta who had lost everything in the Nimtali conflagration in the capital of Dhaka later got the recognition of the `daughters of Sheikh Hasina' by the Prime Minister Sheikh Hasina herself. The loving mother Sheikh Hasina dragged them to her chest like they're her own daughters. She bears the educational expenses of thousands of helpless children in silence. She is carrying the cost of millions of poor and defenseless peoples medical treatment. She is none other than Sheikh Hasina, She is indeed extraordinary.
Sheikh Hasina is an efficient, successful and prudent statesman. Successful mother, effectual guardian. Also a successful political leader and organizer.
In a developing country like Bangladesh such patriotic command is very much needed. We just want that the way Sheikh Hasina is managing all the development activities of Bangladesh with success, this needs to be continued in the coming days.
Writer: Editor, Dhakatimes24.com & weekly Ei-somoy Translated by Minhazul Islam
সংবাদটি শেয়ার করুন
English বিভাগের সর্বাধিক পঠিত