Kanchan Munshi Foundation is currently working to meet the dream of Sheikh Hasina & Sazeeb Wazed Joy
প্রকাশ | ১৬ মে ২০১৭, ০৮:২৭ | আপডেট: ১৬ মে ২০১৭, ০৮:৪৭
Arifur Rahman Dolon, the Editor of Dhaka Times & Weekly Ei-Somoy said that Kanchan Munshi Foundation is now working to materialize Sheikh Hasina and her son joy's dream of Digital Bangladesh. Foundation Chairman Arifur Rahman Dolon said this at the inauguration of the computer training program at Gopalpur Bazar in Alfadanga, faridpur on Saturday Afternoon. Through the initiatives taken by Kanchan Munshi Foundation this training program has been started from Saturday at rudra computer center. Initially this program will be held in Alfadanga, Boalmari and Madhukhali of Faridpur district. This program was inaugurated by foundation chairman & Editor of Dhaka Times Arifur Rahman Dolon.
Arifur Rahman Dolon said that, You all have heard this already that we are going to make public library in three upazilas of faridpur dustrict to elevate the young generation. Bangabandhu Public Library in Alfadanga, Sheikh Rasel Public Library in Boalmari and Fazilatun Nisa Mujib Public Library in Madhukhali. But why Library? Actually, nowadays Students, Unemployed youths both are relatively less book-oriented. But this shouldn't be the case. Our Honorable and Endeared Prime Minister Sheikh Hasina and her son Sazib Wazed Joy too want to build libraries as much as possible. Later on, We'll set up digital libraries Insha-Allah. If we want to make Digital Bangladesh into a reality then Digital Libraries must be build too.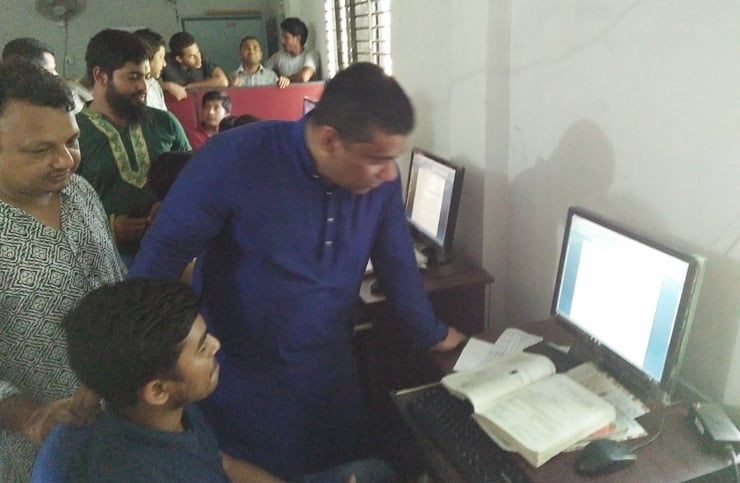 Arifur Rahman also told that, "At first, College Students and Unemployed youths will be trained". Moreover, 25 students in each batch will get full-free training. This programme will be run throughout the year. Arifur Rahman also ensured that, This project will soon get started in Boalmari and Modhukhali too.
Dolon further said that, "Our main endeavor is to get the young generation back from social degradation, specially from drug addiction and militancy."
The Dhaka Times Editor again told that, "Alfadanga is known as the fort of Bangladesh Awami League. No one can deny that. Sheikh Hasina wants to give this locality a lot with both hands. We've to grab this opportunity. Alfadanga has been misused in the past. Those people representatives who just wanted to keep Alfadanga as the most neglected part of these area, shamelessly achieved their own interests by taking all the support, co-operation and vote of the peoples of Alfadanga.''
Arifur Rahman again said that, "But you all will be glad to know that now we've an alternate way to inform our Leader about our happiness, lack of happiness; our straits, our complaints. You just have to be united. And shouldn't be disconcerted. Today, this area is developing. Some people are desperately trying to hamper this upliftment by creating negative publicity. Because, if it's all done then you don't need to go to the doors of those so-called leaders.''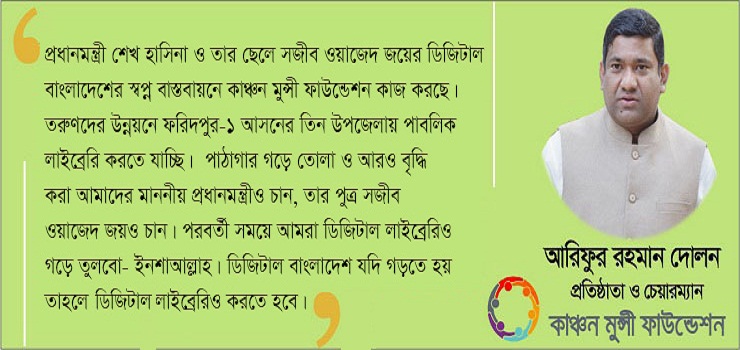 Ei-Somoy Editor Arifur Rahman said that, the amount of development activities which is happening throughout the country that this region Alfadanga, Boalmari and Modhukhali should be at the first place. On every election, the people of this region elected only the Awami League Candidates and too with huge chunk of votes. Still, should we lag behind in development? Still be deprived? Not at all. If we would then the developments which is happening wouldn't have happened. Arifur Rahman Dolon also mentioned about various development activities of the present Government. A technical training center will be established soon in Kamargram at a cost of Taka 70 crore. Our endless gratitude to Sheikh Hasina for this enormous gift. She will solve all of our infrastructural problems. She gave us this assurance. She has given the assurance this is why special development projects has been passed for this region.
This Quintessential Social Worker also added that, "I've just conveyed the problems of this region to the higher level of the government. Three bridges are now being constructed in Barashia river, Alfadanga. First one is in Alfadanga-Boalmari entry road, second one is in Barangkula, Whose work has already been started, the last one will soon be started in Mala-Kashiani entry road within a few days. All these impossible becomes possible only because of the Daughter of Bangabandhu & our LGRD Minister. I've just conveyed these things to them. For the development of this area, Sheikh Hasina's hand needs to be strengthened.
Chaired by the Secretary General of the foundation Robiul Islam, people who also spoke at that function was Faridpur district council member Sheikh Shahidul Islam, Krishak League's central Leader Sheikh Shawkat Ahmed, Awami League Nominated Gopalpur UP candidate Enamul Hasan, Rudra Computer Center's director Asif Mahmud Shaheen.