`Bede' people leaving traditional work
প্রকাশ | ২৫ মার্চ ২০১৯, ১২:৪০ | আপডেট: ২৬ মার্চ ২০১৯, ২০:১৪
Dhakatimes Report.Dhakatimes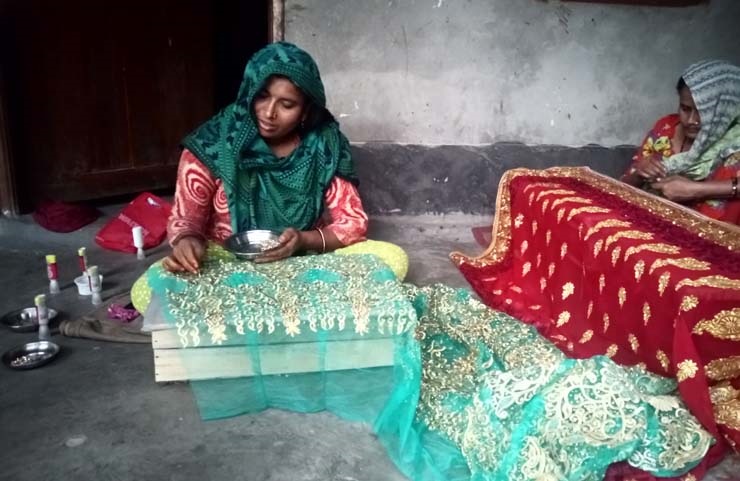 Bede people are uplifting their life-style engaging themselves in different kinds of work, leaving their traditional activities due to initiatives of government and non-government organizations. Mainstreaming of this gypsy people at Savar on the outskirts of the capital city has also reduced the community's divorce rate, decline of less no. of marriage according to a research of Dhaka School of Economics (DScE) by the entrepreneurial economics programme which team was lead by Professor Dr.Muhammad Mahboob Ali.
Bede women have engaged in nakshi kantha sewing, handicrafts etc. while men in shoe factory and some other informal activities to earn money for livelihood.
But, some private organizations do not pay the Bede people as per the local benchmark, said the research report.
Moreover, kids of Bede people are going to school for education. They are also being inspired to get higher studies after primary education. Health and nutrition also increasing.
Over 50 students of post-graduate enterprise development and master of entrepreneurship economics of DScE, a constituent institution of the University of Dhaka, recently visited the Bede palli at Savar as part of field visit for research to see their current life style and source of income. They also visited micro enterprises of Social Upliftment Society (SUS) at Vakurta in Savar Upazila to witness the production of bottle/cane, Aloe vera, Lettuce, business cluster of cow fattening, micro enterprise like imitation gold made product, and business cluster of dairy and cattle laboratory activities.
DScE's macroeconomics and entrepreneurial expert Professor Dr Muhammad Mahboob Ali said PKSF should come forward in the particular area of Savar to establish ENRICH programme to give better income generating activities for Bede people who transform their lifestyle from traditional to mainstream economy.
(BSS)
(Dhakatimes/25March/az)